Have you ever had one of those days when you feel you've worked very hard because you were at your computer all day, yet when you try to assess what you did, it does not seem to add up to the time spent?
One question I ask myself from time to time,  and  a question I encourage  my clients to ask themselves: "If I worked for someone else, would they feel I did a good day's work for the pay they're giving me?"
Peak Time
A number of persons teach that you should identify your peak time and get as much done in that time as possible. That's great if you can identify your most productive time.
Many of us, including me, find it hard to identify a peak time. Unless I'm extremely tired, I can work at Level 9 or 10 at any time as long as I maintain my focus.
Some mornings I will get out of bed, after my morning devotion, all fired up and ready to go. The thoughts and ideas just keep flowing, especially if I have some writing to do.
Other times, the mornings would be my worse time to get my thoughts together, if I did not have a good night's rest. Another time, it may be 11 pm and I'm not particularly tired.
Some of my most focused work was accomplished in the wee hours of the morning when I could not fall back to sleep and there were no distractions. I'd quietly go to my home office and start working.
Productive Time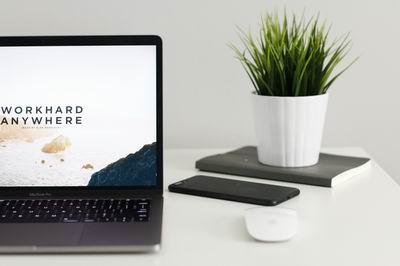 Can you identify your most productive time? If you can, why not use that time as a launch pad for each day's productivity?
Staying productive is always a challenge.
In order to maintain a high level of productivity, you must remain focused. It can be an uphill battle.
Productivity and focus are sort of like the chicken and the egg question. Which comes first?
Simple Tips
Here are five simple tips to help you become more proficient in maintaining your focus so you can increase productivity:
Focus on one task at a time: Imagine that you're at your computer for a steady 30-minute period. You're writing a blog post, but you get message pop-up from Messenger, then one from Facebook. You hear that special ping which tells you got a message in your Priority Gmail inbox (and it may be urgent) and you stop for each. Every time you stop, even if only for 30 seconds, to take a quick peep at the message, it reduces your productivity. From a previous research, I knew that it could take a while to get back on task, but I was stunned to read that more current research indicates it takes an average of 23 minutes and 15 seconds to get back to the task.
Eliminate distractions: This is one of the biggest culprits, several of which are mentioned in the previous paragraph. Turn off your ringers and put everything on silent. Some persons find it helpful to put on a headset and play soft relaxing music or something that suits your style, like smooth jazz. I personally would find that distracting. If the music is playing softly at a distance, I'm ok with that, but not directly in my ears on a headset.
Break down tasks: This speaks for itself. It's easy to become overwhelmed when the task looms like a huge boulder that will topple over on you at any given time. Small rocks, on the other hand, are much more manageable and can be easily moved around. Do the same with your tasks. Break down the time-consuming ones into small increments. As you complete one section, you'll get a sense of accomplishment when you're able to check off completed tasks. This, in turn, will make you feel more productive.
Create Habits and Establish a Routine: Are you someone who feels that routines are boring and you like to change things up a bit. By all means, feel free to change things up, after you've established a routine and created productivity habits. For example, your goal may be to complete writing your book in 90 days. As recommended in #3 above, you'll break down the steps required to achieve this goal. As far as the writing aspect goes, you may decide that you want to write 2,000 words per day for one week then increase it to 3,000 words per day, and so forth. A habit you could create is to incorporate your writing as a part of your morning routine. This way, regardless of what comes up later in the day, you've accomplished a major task on your schedule.
Listen to this Audio
You may enjoy this audio I recorded for my Facebook Group with more tips on focus and productivity.
There is no perfect solution to staying productive, yet maintaining your focus can and will be a huge factor in achieving your goals. In addition, even if other aspects of your life may be chaotic, if you can maintain your focus as an entrepreneur or small business owner, your self-esteem will sky-rocket and you'll feel happier for keeping one side of your life under control.