---
Power Networking Guide
If you're an Entrepreneur or Small Business Owner, you should always be growing your network.
Offline networking resources are essential to building your offline empire, but they are equally essential to building your online empire.
Are you struggling with building a referral network?
Do you wish there was an easy way to connect with influencers who already have a large network?
To get answers to these questions, click here to learn more…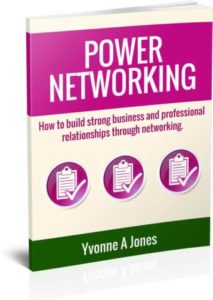 ---
"Brilliant Coach"

"Yvonne is a brilliant coach with a knack for honing in on the core competencies, the skills that really matter in individuals looking to change or improve their career options. She is very warm and personable.

The most positive impact for me was being challenged to think outside the box… which was exactly what I needed.

I highly recommend Yvonne."

Jannine Mahoney

Compliance Solutions Marketing Manager
"Professional in Every Manner"

"Yvonne is professional in every manner yet so personable that she truly cares and creates a relationship with everyone she comes in contact with. Yvonne not only showed compassion for where I was at but was extremely knowledgeable about all of the workings of my industry and could, therefore, share insight into how to get where I wanted to.

She has a knack for working through challenges and wording her questions to get you to think for yourself. Yvonne is a social media master and a true relationship builder and anyone who comes in contact with her is fortunate to have her knowledge, masterminding abilities and life skills at their disposal. Thank you Yvonne!!!!"

Kelly Strnad

Direct Sales Leader