POWER NETWORKING:
How to Build Strong Business and Professional
Relationships Through Networking
Attention: Coaches, Marketers, Entrepreneurs, and Consultants
Whether you have a business offline with an online presence, or your business is totally online, you should always be growing your network.
Offline networking resources are essential to building your offline empire, but they are equally essential to building your online empire.
Are you struggling with building a referral network?
Do you wish there was an easy way to connect with influencers who already have a large
network?
Would being able to partner with others in a spirit of co-opetition rather than competition reduce your stress level?
If you answered, Yes to any of the above questions, I totally understand.

---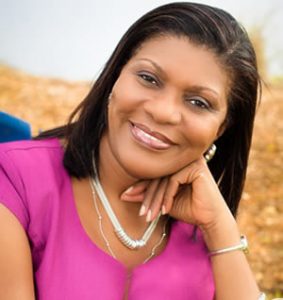 When I started my online business in the Fall of 2008, I did not have a large network in the business community.  After walking away from Corporate America I launched a Customer Service company which I worked exclusively from home.
I wondered how to get the news about my online business out to my local community.  A few months later I was invited to a Business Network International (BNI) meeting and began to see the opportunities for expanding my online business by networking offline.
Later on I joined two Chambers of Commerce and my business, as well as contacts, continued to grow. In addition, my reputation for teaching social media, and customer service and retention began to grow so that people joined local and online workshops I hosted.
Eventually my own Meetup Group was formed and 95% of the participants in the first online four-week LinkedIn training I held came from this group, as well as members of other groups I attended offline.
Are offline groups the only networking groups you can engage in?
Happily, the answer is, No.
Groups on social media platforms, like Facebook and LinkedIn are great places to be when you find those with members who align with your purpose and goals.
There are also industry specific forums that you can explore.
Finally there are many online networking groups that meet online on a regular basis.
Because of how valuable I've found online and offline networking to be, I want to share that information with you so that you can experience the same success.
In the Guide: Power Networking – How to Build Strong Business and Professional Relationships, you will discover:
Why you must clearly identify your purpose for networking even before you begin
Assess the skills you'll need for effective networking
How to create stories that share who you are without being salesy
Identify who your networking target market is
What strategies you MUST implement, and why?
… and much more

---
As you go through the Guide, you will find activities at the end of several chapters that invite you to take action while the information is fresh on you mind.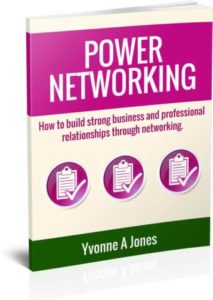 The Workbook in the package will give you the space to write the results of the actions you take.
Many people struggle with what questions to ask that go beyond, "What do you do?"  The Sample Questions enclosed will be a great asset for you to refer to from time to time.
Now, if all you did was to take the information provided in this Guide and connect with ONE influencer who has a network of hundreds of people, then building strong business and professional relationships with him or her, it would be worth at least $97.
But, I'm not going to charge $97. Not even $47 or $27.
Because I want more people to access this information and start growing their network online and offline, I'm pricing this Guide for less than the cost of a large pizza.
Your investment is only $9.95
"Brilliant Coach"

"Yvonne is a brilliant coach with a knack for honing in on the core competencies, the skills that really matter in individuals looking to change or improve their career options. She is very warm and personable.

The most positive impact for me was being challenged to think outside the box… which was exactly what I needed.

I highly recommend Yvonne."

Jannine Mahoney

Compliance Solutions Marketing Manager
"Professional in Every Manner"

"Yvonne is professional in every manner yet so personable that she truly cares and creates a relationship with everyone she comes in contact with. Yvonne not only showed compassion for where I was at but was extremely knowledgeable about all of the workings of my industry and could, therefore, share insight into how to get where I wanted to.

She has a knack for working through challenges and wording her questions to get you to think for yourself. Yvonne is a social media master and a true relationship builder and anyone who comes in contact with her is fortunate to have her knowledge, masterminding abilities and life skills at their disposal. Thank you Yvonne!!!!"

Kelly Strnad

Direct Sales Leader