What is Relationship Marketing? Definition: Relationship marketing is viewing the relationship between seller and buyer as partners for the long-term transactional event.
In the book, The Go Giver, Bob Burg, Motivational Speaker, and Author, and John David Mann, Co-Author wrote: "All things being equal, people will do business with and refer business to those people they know, like and trust."
Let's explore this more closely. If two or more sellers have a product, price, know-how, or any other determining factor which might come into play that is pretty much the same, or equal, what do you believe will be the factors that have an impact on who people buy from?
The probability is extremely high that it's the man or woman who has successfully created the "know, like and trust" factor and built a relationship with the prospect or referral source who will obtain the sale or referral.
What is Relationship Marketing?
Relationship marketing is viewing the relationship between you, the seller, and your customer, the buyer, as partners for the long-term rather than a single transactional event.
Here is another definition from Wikipedia that I really liked and you may too.
"Relationship marketing differs from other forms of marketing in that it recognizes the long-term value of customer relationships and extends communication beyond intrusive advertising and sales promotional messages."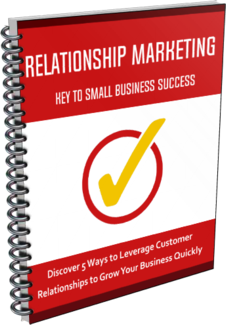 Relationship marketing is about establishing an on-going relationship between brand and consumer; between you, your business, and your customer.
You create a partnership!
The key to building this partnership is to build an emotional connection with your prospects so that they become loyal customers and raving fans.
Incorporating the emotions is essential, not only because people make purchases based on emotions, but also because there is an indisputable fact.
Unless you develop an emotional connection between you and your customer or client, you do not have a loyal customer.
Benefits of Relationship Marketing
Profitability - Customer service ranks as the No. 1 factor influencing how much a consumer trusts a company.
When you make customers feel that they are the #1 asset in your business, it makes them more inclined to support you and make referrals to you.
Builds Trust - At a time when people seem to have lost trust in many businesses, online and offline, it's more important than ever to develop the personal relationship with customers so that they clearly understand that you, as the small business owner, genuinely care about their welfare and not just see them as a means to a profitable end.
Create Your Own Research Team - Your loyal customers and clients are in the best position to share with you ideas and suggestions on how your products or service could be better. They can also share how the changes and enhancements would impact their lives.
What Is Relationship Marketing? Benefits and Importance of Relationship Marketing (live event)
Making a conscious decision to focus on building relationships and creating partnerships with your clients and customers is one of the most rewarding experiences you will have as a business owner.
Instead of the constant customer chase, you will have loyal customers who become your advocates. Hence, you'll have more FUN in your business.
To get more tips and strategies on building relationships with your customers, I invite you to claim your Special Report: Relationship Marketing – Key to Small Business Success