Are you a winner? "At what?" you may be asking.
It doesn't really matter what specifically.  This question applies to just about any task you're undertaking, whether it's physical, mental, or emotional.
See Yourself as a Winner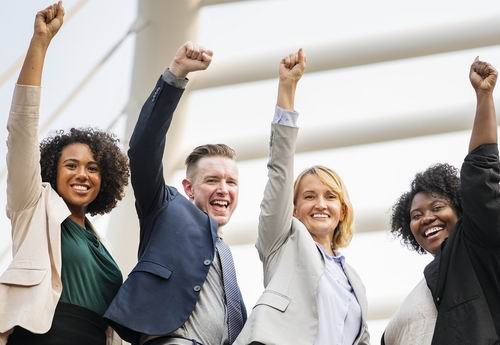 You must see yourself as a winner, even before you begin. If you're in the middle of a project right now, begin to see yourself as a winner. You must have the mindset that you're going to win even before you start.
Why is it so important to think of yourself as a winner even before you begin?
"Your thoughts are the source of your emotions and mood. The conversations you have with yourself can be destructive or beneficial. They influence how you feel about yourself and how you respond to events in your life." Healthline.com
Barbara Fredrickson
Professor Barbara Fredrickson, a social psychologist from the University of North Carolina in Chapel Hill, who did extensive research on the power of positive thinking, linked emotions to thoughts. She likened positive emotions to nutrients that expand your field of vision.
I especially like this quote from her research in speaking about positive mindsets, "these broadened mindsets carry indirect and long-term adaptive benefits because broadening builds enduring personal resources, which function as reserves to be drawn on later to manage future threats."
Mohammed Ali
I couldn't help but think of the boxer, Mohammed Ali.
When I was growing up I would hear on the radio or see in the newspaper, where he would repeatedly say, "I am the Greatest!"  Having been taught not to be boastful or think too much of yourself, I felt he was exactly that. Boastful.
As an adult, I recognized it was more than that.  It was important to always see himself as a winner.  Every fight that he went into, he saw himself as a winner, despite what the pundits said.  This gave him the confidence to do what no one thought he could and go where no one else thought he would.
I am not a fan of boxing or any aggressive sport, yet I could not help but be impressed with Mohammed Ali's positive attitude and self-talk as evidenced in this video.  Warning: Not for the faint-hearted!
What will you take away from this message?  Will you be determined to see yourself as a winner even before you begin?  It takes practice to incorporate positive self-talk that overrides any negativity.
Start with creating simple affirmations that you write in the present tense and say aloud.
Examples
"I am a Winner"
"I achieve success in everything I do"
"I have the knowledge to succeed."
So, in conclusion, see yourself as a winner even before you start, and create positive affirmations to encourage you to develop a positive mindset and positive self-talk to override any negative thoughts that pop up from time to time.